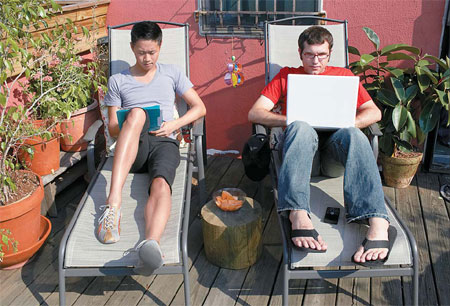 On the Internet people are willing to call just about anyone a "friend". ImageChina
Meet Tiffany. She is a 23-year-old woman from New York. Tiffany has just moved to London and is looking to make friends as she is new to the city.
She has made a profile on Facebook in the hope of meeting some like-minded people. She has even included a photo of herself, and some information about her favorite music, films and books. There's just one problem - Tiffany doesn't even exist.
Instead, she is the creation of Kaya Burgess, 23, a journalist from London, to see whether even someone who is fictional can make virtual friends in this age of Internet communication. Within a week she had over 100 "friends".
Tiffany decided to host her own birthday party in a bar, hoping to meet her new buddies. Everyone was invited, and her creator sat in the corner to wait and see if anyone turned up. After waiting for more than hour, nobody had. Tiffany would surely have been very upset - if she was a real person.
This experiment shows that on the Internet, people are willing to call just about anyone a "friend".
The growth of social networking sites (SNS), such as Facebook, has seen the line between real and virtual friendship become increasingly blurred. These sites enable users to create a profile of their personal information, keep in touch with their friends and even meet new people with similar interests. For some people, having more than 500 "friends" on a social networking site seems very natural.
Chai Lin, 26, who works for a record company, joined "Happiness" (www.kaixin001.com) after hearing about it from a friend.
"Now I have 201 friends but have only met 50 of them. I enjoy sending virtual gifts to my online acquaintances. It is a good way to maintain our friendship," she says.
Happiness is a lighthearted SNS featuring a series of games users can play with each other, while other sites are more focused on networking.
Tommy Qin, a 24-year-old management assistant at a Shenzhen-based foreign trade company, uses Xiaonei - another SNS - for business.
"It's much easier and faster to find friends with the same business interest online. I met a guy in the same business as me, and we share information and trade opportunities that are helpful to my daily work. Now we are good buddies online, but we've never met or even exchanged our real names," he says.
But the makers of Xiaonei, which is more serious in its content and tries to connect classmates and friends, are not keen for this trend to continue. Li Qing, from Xiaonei's marketing department, insists that the site is not a place to create virtual friendships.
"Xiaonei aims to connect acquaintances such as classmates and other users. It does not mean to encourage its users to expand their circle of friends on it," she says.
But there's a dilemma for Li, whose booming SNS also aims to expand its user base. With so many different sites available, young people like Qin are finding that more and more of their friendships develop online rather than in the real world.
A 2007 survey by the Horizon Research Consultancy Group showed that more than 36 percent of Chinese netizens have approached a stranger in cyberspace. The rate is much higher than in normal social situations such as business meetings or weddings. The same survey also found that 37 percent of people would never reveal their true identities and real thoughts on an SNS.
Wang Yuanyuan is one of these people. She is a 23-year-old clerk at a Hong Kong-based power plant, and acknowledges that the whole idea of an online friend is often little more than an illusion.
"I started chatting with strangers merely out of impulse and I never expected to make a 'real' friend. I often give fake names and made-up personal information, so how can I expect others to be real?"
Some worry that this approach to friendship will be damaging to young people in the long term. Yang Jianhua, a sociology professor from the Institute of Sociology of Zhejiang Academy of Social Sciences, warns that young people should not rely on social networking sites to find new friends.
"It's hard to get deep in the virtual world," he said. "These relationships are often based on games and so remain superficial. They can lead to an absence of intimate relationships in real life."
Wang Zi and Xu Weiwei from 21st Century contributed to the story