---
When a customer travelled 70 miles from Oxford just to buy a slab of his pork, Jamie Burgess thought nothing of it. "People know about Ibérico ham now and this is like a British version," he says. "They're happy to come a long way for something a bit different." The New Forest farmer, whose family has raised pigs in this Hampshire location for four generations, makes the comparison loosely. He is referring to "pannage pork", which, like Ibérico, is produced from pigs fattened on acorns.
In the UK, the pigs have access to their nutty diet for just two months a year, so it doesn't have quite the same taste and texture as the prized Spanish ham. But increasing numbers of food lovers are seeking it out. Chef James Golding, who previously worked at the Savoy, Le Caprice and J Sheekey restaurants in London, believes pannage pork rivals the best in the world for its flavour and texture, and he puts it on the menu at The Pig Hotel at Brockenhurst, in the New Forest, whenever possible. "As the pigs have been left to roam, the fat content seems to be a little less and the meat slightly darker and drier, with a more concentrated flavour. It's extremely 'porky'," he says. "We always serve it medium and always very simply, to enhance the really excellent flavour. The second you put it in your mouth, you know the flavour is something special."
Pannage is an ancient practice virtually extinct outside the New Forest. This former royal hunting ground entitles locals to release their animals into the forest to devour fallen acorns, beech mast and chestnuts in the autumn, and they can stay out for days and weeks on end if there are rich pickings to be found. It's nature's own health and safety scheme – the pigs safely scoff as many acorns as they like, clearing the area for the ponies and cattle that can poison themselves if they eat too many – 90 New Forest animals died during the bumper 2013 acorn season.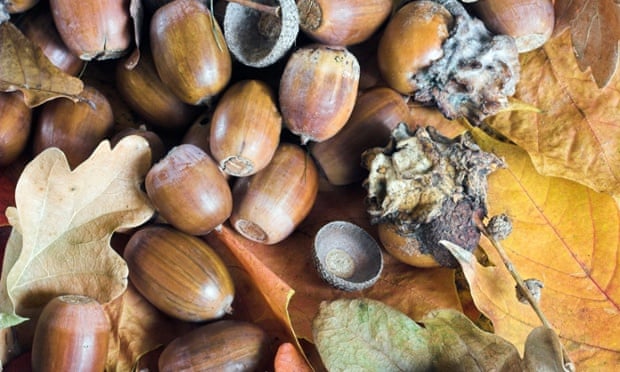 The exact timing of the season depends on the weather and when the acorns fall. This year it has just come to an end, so the pigs will be brought back in and fed a regular diet in preparation for slaughter in a few weeks' time. Serious pork lovers will be able to feast on the meat for Christmas – if they can get their hands on some.
"In the past few years we've definitely started to see more interest in pannage pork," says Burgess. "People are looking for something different these days and they're paying a lot more attention to where their food comes from and how it's produced."
The problem – but also the attraction – for consumers is that pannage pork is scarce. In the 19th century, as many as 6,000 pigs were released into the New Forest each pannage season, but that number now stands at 600 or fewer. And this year's acorn crop is meagre compared to last year's bumper season, which means that fewer pigs have been released and demand is likely to outstrip supply. Last season, butcher Nathan Mills from The Butchery in Bermondsey, London, sold all of his limited supply "before it came through the door", such was the level of interest, especially from chefs. "Pannage pork is also seasonal, so that makes it very special," he says.
Barry Topp, a New Forest cider producer who raises Gloucester Old Spots, has just released 12 pigs into the forest, which he will sell to a butcher in London. He's immensely proud of the product even though pannage season "keeps him on his toes": last year, some of his free-roaming pannage pigs gatecrashed a wedding at a local hotel. He would like more local farmers to take up production of pannage pork to increase supplies, and sees no reason why they couldn't rival Ibérico producers. "We could be producing our own Ibérico-style pork and selling it as premium New Forest Pannage Pork," he says. "Why not?"
How to get your hands on pannage pork
The price and availability of pannage pork depends on the season and individual producers, but the following suppliers are all worth trying. This year, pannage pork should be available from early- to mid-December, but it's best to pre-order. Here is a list of suppliers worth trying:

http://www.theguardian.com/lifeandstyle/wordofmouth/2014/dec/01/pannage-pork-british-iberico-style-ham-acorn-fed-pigs